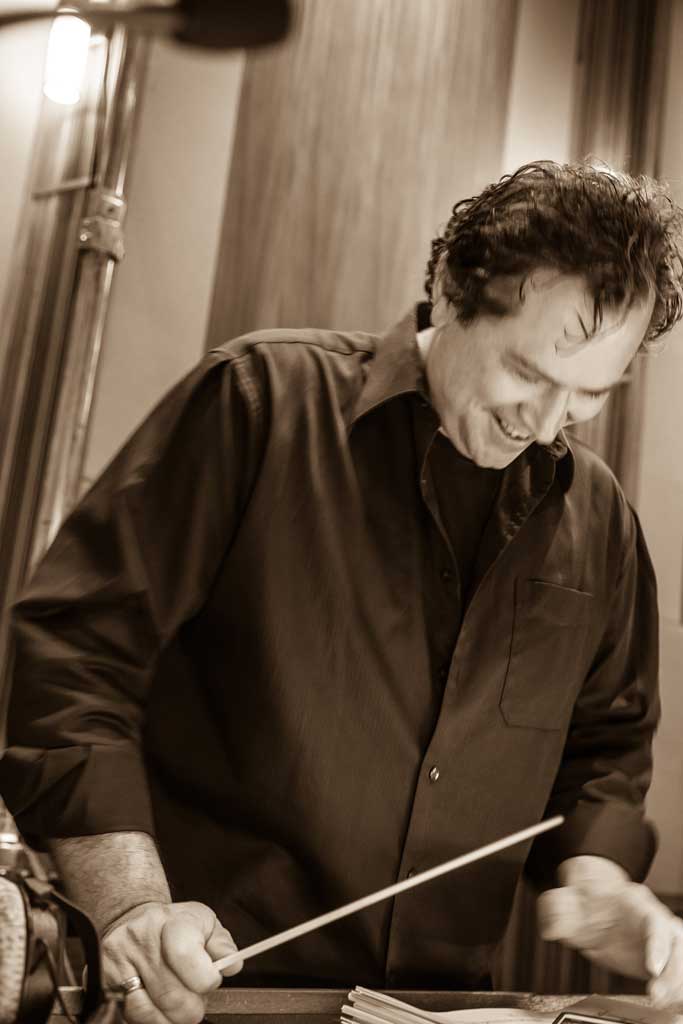 Marco d'Ambrosio
Composer, Conductor, Producer
Marco d'Ambrosio loves shaping music and sound, especially the kind that enhances the visual arts. Making music that is evocative, enlightening, and entertaining is a natural result of Marco's creative expression.
Marco's musical baptism began shortly after moving from Italy to Boston, when at age nine he began playing trumpet. "It really all began in Italy," he reminisces, "when my father would take me to festivals in Florence. "He would put me on his shoulders so I could watch the bands march by."
"I remember falling in love with the trumpet, mostly because it was so shiny! It wasn't until we emigrated to the United States that I had a chance to start playing in elementary school." An insatiable appetite for all genres ("my first two albums purchased simultaneously were Maurice Andre Plays Baroque Trumpet Concertos and Aerosmith's Toys in the Attic") his musical awareness was later captivated by film music, particularly the classic collaborations of Fellini and Nino Rota and the scores of Ennio Morricone, Bernard Herrman and Maurice Jarre among others. This quickly led him to composition, with a special interest in combining acoustic and electronic textures, which he pursued while a student of music and engineering at the Hartt School of Music and University of Hartford.
Marco has never been unduly influenced by cultural and stylistic constrictions. He is equally adept at playing and creating pieces that reflect classical, jazz, modern and ethnic influences, and he thrives on blurring the lines between each. In some of his recent scores you can hear various ethnic instruments such as the didjerido, dumbek and bodhran drums, melodica, Indian flutes, Waterphone and Theremin along with beats or highly stylized synthetic textures. Many of his compositions also reflect a romantic orchestral lyricism that can no doubt be traced to his summers performing/studying at the University of Siena and touring throughout Europe with the Puccini and International Festival Opera Orchestras.
An East Coast transplant, Marco has made a musical niche for himself in a studio in the San Francisco Bay Area. As a composer, sound designer and multi-instrumentalist, he has scored numerous award winning films, documentaries and theatre projects including the anime hit VAMPIRE HUNTER D BLOODLUST, JOJO's BIZARRE ADVENTURES, FIST OF THE BLUE SKY, HAIKU TUNNEL (Sundance 2001), the Emmy winning documentary BLINK, DOUBLE DARE, and RED DIAPER BABY for the Sundance Channel. Other scores of Marco's have been on projects released by 20th Century Fox, Sony Pictures Classics, Lucasfilm Ltd., PDI/Dreamworks, Pixar, Columbia TriStar HBO, and ION TV.
In 2005, he was awarded the prestigious film scoring fellowship from the Sundance Institute, and in 2009 he was selected to participate in the BMI Conducting Workshop in Hollywood. You can hear some of his later scores in THE RAPE OF EUROPA, for which he received an Insight Award for Excellence from the National Association of Film and Digital Media Artists, READY, SET, BAG!, WE LIVE IN PUBLIC (co-scored with Ben Decter), winner of the 2009 Sundance Film Festival Grand Jury Prize, and ATOMIC MOM, winner of a Gold Medal at the Park City Film Music Festival. Marco is also responsible for creating much of the dynamic sound and music heard in the iconic THX trailers.
Marco has also enjoyed a stint co-arranging and performing with Bob Weir (The Grateful Dead) More recently, he was also the studio orchestra conductor for the ABC TV series "Off the Map" and "Intelligence" working on great stages in LA, like Capitol and Warner Bros. He has also been a regular "house" conductor at Skywalker, working on larger scores for video game projects for Microsoft Studios and Sony along with baton duty for other composers on their film projects.
When he's not locked up in his mad sonic laboratory, Marco recharges his creative flow working the land at Valle Verde, the Sonoma County ranch he shares with his wife Terri, son Armando and their dog Diva.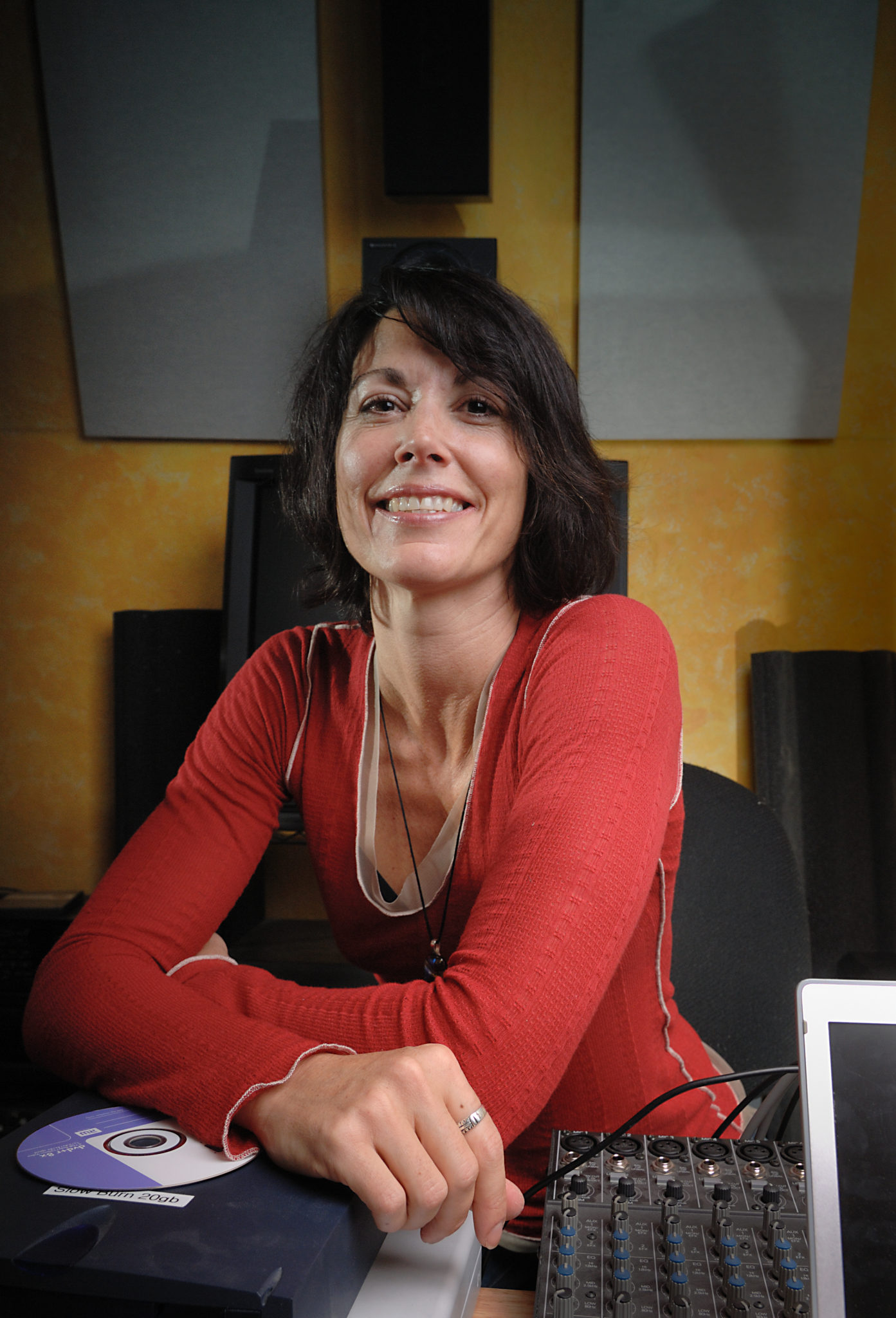 Terri d'Ambrosio
Audio Post and Music Supervisor
As audio post and music supervisor of MarcoCo. Studios, Terri manages projects from script to final mix, overseeing the production of music, sound elements, dialogue recording, editing and mixing. She also handles all music licensing activities from song placement to final clearances.
Recent projects include award-winning films, "We Live in Public" and "The Revolutionary Optimists", "The Rape of Europa" and the highly acclaimed, Robert Reich themed "Inequality For All" (Academy Award short listed). Additional theatrical releases include, "Haiku Tunnel" from Sony Pictures Classics, "ATM", and "Searching For Paradise" starring Chris Noth and Susan May Pratt. Terri was the score supervisor on the popular television series "The Josh Kornbluth Show". She recently completed music supervision on the documentary "50 Children: The Rescue Mission of Mr. And Mrs. Krause, starring Alan Alda, released by HBO Films. Having worked in A&R and record promotions, Terri has worked on a number of album projects, including releases from such varied artists as Jon Anderson (YES), Ottmar Liebert and Charo. Terri co-chaired the SF Chapter of the Film Music Network, the film and television music industry's premiere professional organization, and acts as a consultant to filmmakers on intellectual property rights.